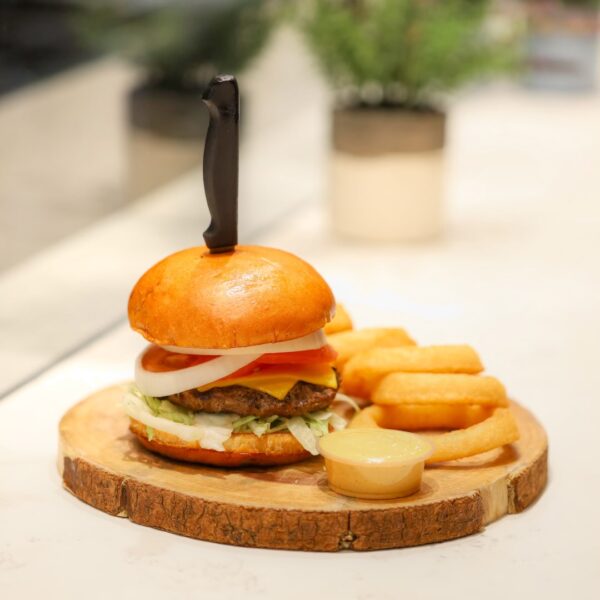 If you're a burger enthusiast looking for a culinary adventure, the Gaslamp Quarter in San Diego is the place to be. This historic district is not only known for its vibrant nightlife and rich cultural heritage but also for its exceptional burger joints. Get ready to indulge in burger bliss as we take you on a mouthwatering journey through the best burger spots in the Gaslamp Quarter.
One of the standout burger destinations in this gastronomic paradise is Gaslamp Burger. Located at the historic heart of San Diego, Gaslamp Burger offers a burger experience like no other. With their commitment to quality and taste, it's no wonder they have become a local favorite.
When you step into Gaslamp Burger, you'll be greeted by an inviting atmosphere and the irresistible aroma of sizzling patties. Their menu features a range of delicious options, but their House Burger is an absolute must-try. Made with 100% grass-fed beef raised in the USA and served on a gluten-free bun, this burger is a true delight for your taste buds. The best part? Gaslamp Burger ensures their beef is free from antibiotics and hormones, so you can savor every bite with confidence.
If you're looking to mix things up, Gaslamp Burger also offers a delectable Hot Dog option. Perfectly grilled and served with your choice of toppings, this classic American favorite is a great alternative for those craving something different.
To complement your burger experience, Gaslamp Burger offers an enticing happy hour from 11 am to 9 pm. Sip on a refreshing Beer for just $5 or savor a glass of Wine for $7. The combination of great food and affordable drinks makes Gaslamp Burger the ideal spot to unwind and enjoy a memorable dining experience.
Conveniently located at 738 5th Ave., Gaslamp Burger is easily accessible for locals and visitors alike. Whether you're exploring the Gaslamp Quarter during the day or craving a late-night burger fix, Gaslamp Burger has got you covered. They're open from 11 am to 2 am from Sunday to Thursday, and until 3 am on Fridays and Saturdays.
So, if you're ready to embark on a burger adventure in the Gaslamp Quarter, make sure Gaslamp Burger is at the top of your list. With their commitment to using quality ingredients, flavorful creations, and inviting ambiance, Gaslamp Burger is sure to satisfy your burger cravings.
Don't miss out on this burger haven in San Diego. Visit Gaslamp Burger today and experience burger bliss like never before.
Contact Information: GASLAMP BURGER 738 5th Ave. San Diego, CA 92101 Phone: (619) 255-1839 Email: info@gaslampburger.com
Opening Hours: Sunday to Thursday: 11:00 am to 2:00 am Friday & Saturday: 11:00 am to 3:00 am