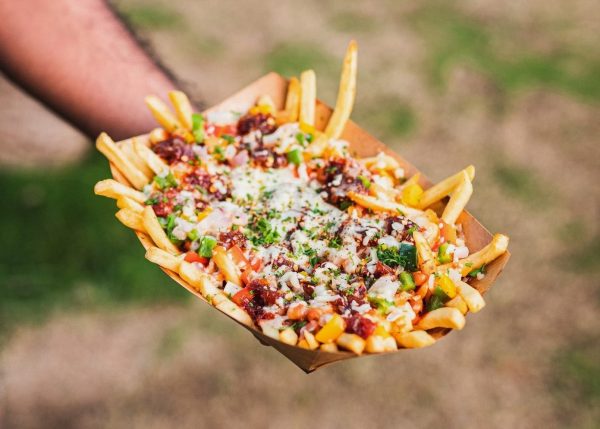 In the heart of San Diego's vibrant Gaslamp Quarter, Gaslamp Burger stands out as a local favorite, known for its mouthwatering burgers and an impressive array of delectable fries. With a diverse range of options to satisfy every craving, Gaslamp Burger is the go-to destination for both burger enthusiasts and fry lovers. In this article, we'll explore the enticing world of Gaslamp Burger's signature fries, including Philly Cheese Fries, Nacho Fries, BBQ Chicken Fries, Buffalo Chicken Fries, Southwest Shrimp Fries, and Greek Fries.
Philly Cheese Fries:
Indulge in the irresistible combination of savory Philly meat, green peppers, mushrooms, onions, and a generous helping of melted cheese. These Philly Cheese Fries are the perfect marriage of flavors, offering a tantalizing blend of textures and tastes. Whether you're a Philly cheesesteak fan or just craving cheesy goodness, this fry option will not disappoint.
Nacho Fries:
For those who crave a little Tex-Mex flair, Gaslamp Burger's Nacho Fries are a must-try. These crispy fries are generously topped with chili beans, seasoned ground beef, melted cheese, and jalapeno slices. The result is a fiesta of flavors that will transport your taste buds straight to the heart of San Diego's Gaslamp Quarter. This fusion of flavors offers the perfect combination of spice, meaty goodness, and cheesy delight.
BBQ Chicken Fries:
Get ready for a smoky and satisfying experience with our BBQ Chicken Fries. Tender pieces of grilled chicken are paired with sautéed onions, a drizzle of sweet and tangy BBQ sauce, and a generous helping of melted cheese. These fries strike a harmonious balance between savory and sweet, making them a favorite for both kids and adults alike.
Buffalo Chicken Fries:
If you're a fan of bold and zesty flavors, our Buffalo Chicken Fries are a top choice. These fries feature succulent chicken strips coated in spicy buffalo sauce, complemented by a creamy blue cheese dressing and a side of refreshing ranch. The heat of the buffalo sauce is perfectly offset by the cooling creaminess of the blue cheese and ranch, creating an addictive flavor combination.
Southwest Shrimp Fries:
Take a flavorful journey with our Southwest Shrimp Fries. Loaded with plump, succulent shrimp, these fries are paired with a tangy cocktail sauce and a generous serving of melted cheese. The combination of seafood and southwestern flavors makes for a unique and unforgettable taste experience. It's a taste of San Diego's coastal charm right in the heart of Gaslamp Quarter.
Greek Fries:
For a Mediterranean twist on a classic favorite, the Greek Fries at Gaslamp Burger are a revelation. These fries are topped with gyro meat, drizzled with cool and creamy tzatziki sauce, and sprinkled with crumbled feta cheese and fresh onions. The blend of flavors is a harmonious symphony of Greek cuisine that will transport your taste buds to the shores of the Aegean.
At Gaslamp Burger, we take pride in offering an extensive menu that caters to all palates. Each type of fry is crafted with care and attention to detail, ensuring that every bite is a memorable one. Whether you're a fan of savory and cheesy delights or you're looking for a unique fusion of flavors, our diverse range of fries has something for everyone.
Come and visit us or place an order at Gaslamp Burger in the Gaslamp Quarter of San Diego and treat yourself to a culinary journey filled with delectable fries that will satisfy your cravings and keep you coming back for more. Our fries are more than just a side dish; they are an experience in their own right, each with its own unique story to tell. Explore our menu and discover your new favorite fry today!