In the heart of San Diego's Gaslamp Quarter, there's a culinary gem that's redefining the burger experience. Gaslamp Burger isn't your typical burger joint; it's a place where quality, sustainability, and flavor converge on your plate. What sets them apart? Gaslamp Burger proudly serves only 100% Grass-Fed, Antibiotic and Hormone-Free U.S.A. raised beef, and it's not just a marketing gimmick—it's a commitment to your well-being and the environment.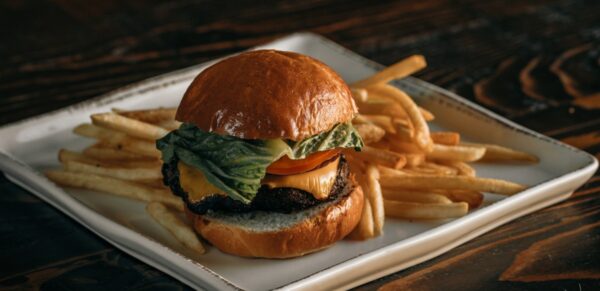 The Gaslamp Burger Difference
When you step into Gaslamp Burger, you're not just entering a restaurant; you're entering a dedication to quality and ethical sourcing. Here's why Gaslamp Burger's choice of 100% Grass-Fed, Antibiotic and Hormone-Free U.S.A. raised beef is the better choice for both your palate and the planet.
Superior Quality and Flavor
Gaslamp Burger's beef is exclusively sourced from U.S.A. Raised cattle that have been raised on a natural, grass-fed diet. This means no grain, antibiotics, or hormones are ever part of their diet. The result is a burger that's not only healthier but also bursting with superior flavor. Grass-fed beef boasts a rich, beefy taste that's unmatched, offering a true taste of the pasture in every bite.
Healthier Choice
Choosing 100% Grass-Fed, Antibiotic and Hormone-Free beef is not only about savoring a mouthwatering burger; it's also about making a healthier choice for your body. Grass-fed beef is lower in unhealthy saturated fats and higher in beneficial nutrients like Omega-3 fatty acids and antioxidants. It's a burger that nourishes your body while satisfying your cravings.
Ethical and Sustainable
At Gaslamp Burger, sustainability is more than a buzzword—it's a core value. By sourcing their beef from cattle that are humanely raised and grass-fed, they're promoting ethical farming practices. This approach benefits not only the animals but also the environment. Grass-fed farming requires less water and reduces greenhouse gas emissions, making it a more sustainable option.
Supporting Local Farmers
When you dine at Gaslamp Burger, you're not just enjoying a delicious meal; you're supporting local U.S.A. farmers who raise their cattle responsibly. This commitment to sourcing locally helps bolster the agricultural economy and ensures that you're getting a burger that's as fresh as it gets.
Peace of Mind
Gaslamp Burger believes in transparency. They want you to enjoy your meal with peace of mind, knowing that your burger is free from unnecessary antibiotics, hormones, and additives. It's a commitment to clean eating and better dining.
Conclusion
At Gaslamp Burger, they don't just serve burgers; they serve an experience. An experience of unparalleled flavor, quality, and ethical responsibility. By exclusively offering 100% Grass-Fed, Antibiotic and Hormone-Free U.S.A. Raised beef, they've set a new standard for what a burger can be.
Place an order today or the next time you're in the Gaslamp Quarter in San Diego, make a point to visit Gaslamp Burger. Your taste buds will thank you, and so will your conscience. It's more than just a burger; it's a celebration of good food and responsible dining.