Redefining Burger Excellence with Grass-Fed, Organic Beef
Gaslamp Burger is redefining the burger experience in downtown San Diego, serving up mouthwatering creations made from 100% grass-fed, organic beef. With a strong commitment to quality and sustainability, we ensure that every bite you take is not only delicious but also contributes to your well-being. Quality Grass-fed Burgers have never tasted so good!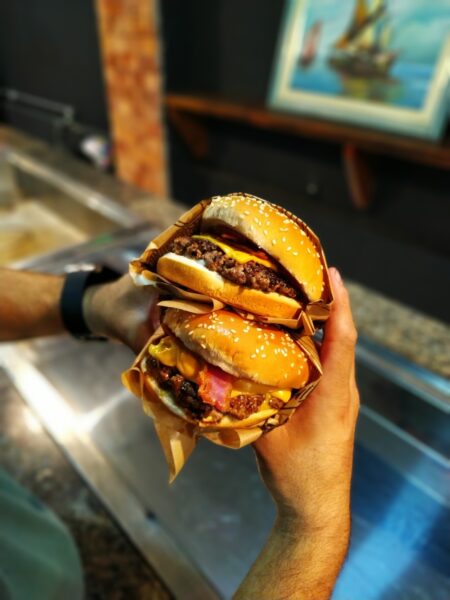 🍔 Quality You Can Taste
Our burgers are crafted using 100% grass-fed, organic beef.
Meat sourced from U.S.A.-raised, grass-fed cattle for optimal flavor and tenderness.
No antibiotics or hormones used in our meat, ensuring a healthier option.
Click here for our menu.
🌱 A Burger for Every Palate
Enjoy our signature grass-fed beef burgers bursting with flavor.
Vegetarian or vegan? Try our delectable veggie burgers made with locally-sourced vegetables.
Looking for gluten-free options? We have you covered.
Savor refreshing salads made with the freshest ingredients.
Indulge in hand-spun shakes for a delightful treat.
Don't miss out on our satisfying hot dogs.
📍 Convenient Location
Gaslamp Burger is conveniently located at 738 Fifth Ave, San Diego, CA 92101.
Perfectly situated for downtown explorations, visits to San Diego beaches, downtown events, or before a Padres game.
🌟 Experience Beyond Burgers
Pair your burger with a refreshing craft soda from our selection.
Indulge in one of our hand-spun shakes for a creamy delight.
Enjoy a burst of flavor with our fresh and vibrant salads.
Satisfy your cravings with our mouthwatering hot dogs.
👥 Join Us Today for Quality Grass-fed Burgers and more!
Discover why Gaslamp Burger is a top choice for burger enthusiasts in downtown San Diego.
We take pride in creating memorable dining experiences with quality ingredients and a friendly atmosphere.
Whether you're a local or a visitor, make Gaslamp Burger your go-to destination for the best burgers in town.
Experience the difference of quality ingredients, commitment to sustainability, and unparalleled flavor of Quality Grass-Fed Burgers at Gaslamp Burger. Visit us at 738 Fifth Ave, San Diego, CA 92101, and treat yourself to a burger experience unlike any other. Experience the ultimate burger satisfaction by ordering online or visiting us in person today!